The askable adult
The askable adult can be anyone that has more life experience than you and someone you trust. This could be an older sibling, friend, cousin, parent, teacher, school counsellor or nurse, aunt or uncle, a friend of your parents, neighbour, coach, health professional, police officer, babysitter.
You may feel vulnerable and uncomfortable asking for help, however remember that everyone needs help now and then. There's no shame in that, in fact, it takes a lot of courage to reach out and speak honestly about difficult issues and concerns you have. talking about it can make you feel less alone and the person you choose to talk to can help you work out what to do. Also, chances are that your askable adult has been through similar stuff
Mandatory reporting
Some askable adults have a professional duty to make a mandatory report if they suspect or believe there is risk of harm to a young person or that the young person is experiencing abuse or neglect. See Access Canberra: Reporting child abuse and neglect for a list of people who are mandated reporters.
Resources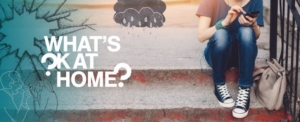 What's OK at Home: Talk to someone for guidelines on starting a conversation with an adult you trust.